Banking made easy!

Your feedback, plus industry-leading technology, has helped us design the ultimate user experience. We know you're on the move, so banking should never slow you down. Now you can manage all your accounts in one place — whether they're at WECU or another bank. Click, swipe, tap. It's as easy as that.

Get it on Google Play
Download on the App Store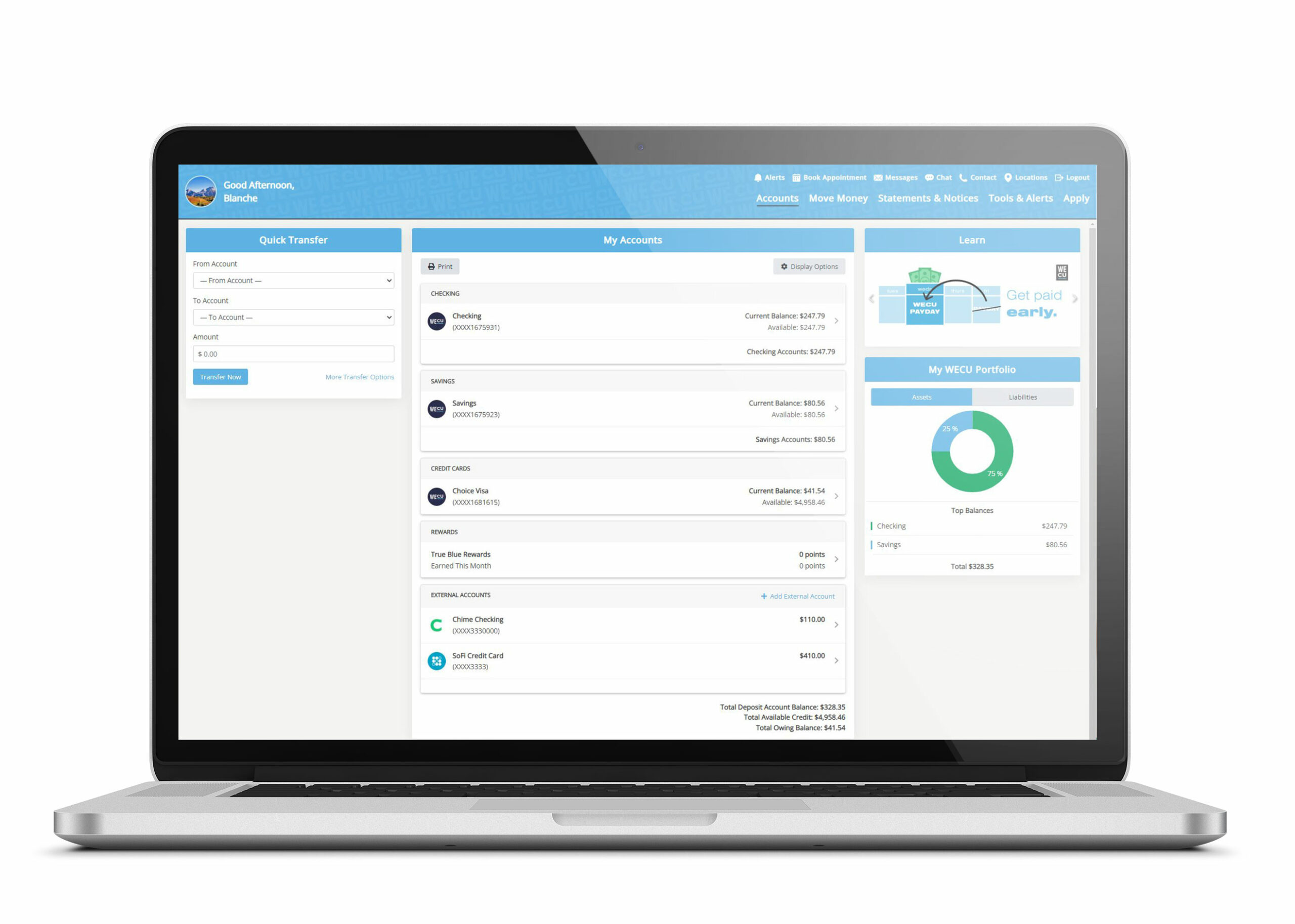 Banking when, where,
and how you want
You're busy. We get it. That's why we've made banking easier and more convenient by offering a bunch of cool online services. Manage your accounts, pay your bills, and check your balances - all from the comfort of your home. Mobile app or computer. Office or hotel. Or wherever life takes you.
A few more things you can do
Now your money moves as fast as you do. Friends or family, now or later.
Add your accounts from other banks to view balances and transactions, and to move money to and from WECU.
Our app lets you deposit checks anytime, anywhere. In a snap. Literally.
Pay bills online 24/7. You can even get statements from many businesses (eBills).
Turn your credit and debit cards on and off. Peace of mind in the palm of your hand.
Credit is an important part of your finances. View your FICO Score and key factors that may be affecting it.
Open new accounts, apply for loans, set up alerts, order checks, send travel notices, and so much more.
It's easy, it's free, it's secure, it's clutter-free. And all those beautiful trees will thank you.
* WECU Mobile is rated 4.8 in the Apple App Store and 4.7 in Google Play, as of June 2022.
Security First
With Secured Socket Layer (SSL) and advanced encryption technology, we go above and beyond to keep your personal information safe.